Verizon Connect ELD (Electronic Logging Device) is an all-in-one ELD designed to assist drivers and fleet managers to comply with FMCSA standards. It's a BYOD ELD with cloud-based solutions to record and monitor your fleet data hassle-free. Apart from assisting you in staying compliant with the rules, Verizon also provides you with driving aid, DVIR (Driver Vehicle Inspection Reports), and various alerts. This ELD can go well with any business having a transportation department covering a wide range of solutions at reasonable prices. Have trouble making a choice? Check this: [How to Choose the Best ELD for your Truck or Fleet]
About Verizon Connect
Verizon Connect is one of the popular companies that provides the best solutions to the owners of fleets and their teams. Their solutions include tracking solutions, ELD compliance, dashcam, IFTA reporting, etc. Their products and services cover the sectors like transportation, logistics, mining, delivery, agriculture, and many more.
After creating goodwill in providing efficient GPS solutions, they have also made a mark in offering the best ELD solutions to the fleet industry. Their solutions are versatile and especially suitable for mid-sized fleets.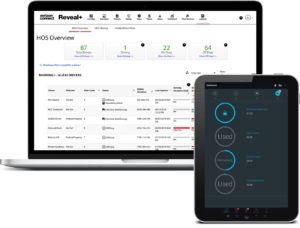 Verizon Connect ELD Highlights
DoT Compliance

FMCSA-Approved

Real-time location tracking

Fuel Monitoring

Better User-Interface For Drivers

FMCSA Registered

Integrated Device

HOS Compliance 

Geofencing  

DVIRs  

IFTA Reporting  

Vehicle Diagnostics Monitoring

OBD-II  

Engine Status

Replay

Free Demo
Pricing and Subscription
While looking for cost-efficient ELD solutions, people expect numerous benefits and features at a reasonable cost. And that is what makes Verizon Connect ELD a good choice. They offer a bunch of ELD capabilities at an affordable price. To make matters easier for their customers, the company leases the ELD with subscription plans. Here are the plans:
Basic Reveal Plan
Available at an economical cost of only $35 a month, the basic plan comes with only the essential features – hardware, GPS tracking, and access to Verizon Reveal (their cloud service).
Electronic Data Logs Plan
With a slight increase in the price of $10, the Electronic Data Logs Plan has the feature of electronic logging with the basic plan features.
Cell-Enabled Plan
The Cell-Enabled Plan provides you with a data plan so that your drivers don't require to use their data plan. You will need to pay an additional $15 to enable this plan.
Key Features of Verizon Connect ELD
Automatic HoS Logging
One of the unique features of this ELD is that it automatically reports the HoS (Hours of Service), making the process convenient, accurate, and practical. Consequently, it will improve the performance of your drivers and overall fleet management. 
Accurate Reporting
Backed by the AI-powered solution, the Verizon Connect ELD automatically generates the reports. The correct reporting allows managers to analyze the expenses and eliminate unnecessary costs. It helps the drivers to follow the schedule and improve their flaws. Moreover, it also reduces the paperwork and helps you easily stay compliant with the FMCSA and DoT rules.
FMCSA Compliance
The Verizon Connect ELD is an FMCSA-registered ELD. It offers you all the features and benefits to stay in compliance with FMCSA rules. It automatically tracks the data from your vehicle's diagnostic port and starts the HoS logging when it's in motion. Thus, this ELD makes it easy for drivers and fleet managers to work with a flow and follow the rules – all at the same time.
DoT Compliance
The Verizon Connect ELD automatically generates all the reports so that you can be ready for any inspection. It helps you maintain the records and data by informing you about driving time, breaks, overtime, and total duty time, etc. The fleet managers can also set the driving hours and alerts for unauthorized driving time.
Real-Time Tracking
The advanced ELDs are incomplete without a GPS tracking solution. The Verizon Connect ELD comes with a real-time GPS tracker on availing of the basic plan. The GPS tracking solution includes all the major features of a GPS tracker such as idle time, Geofencing, downtime, etc.
Asset Tracking
Through real-time GPS tracking, you can also track your assets' actual and current location. The tracking solution is suitable for stocks, machinery, carriage, trucks, etc. With this information, managers know the exact location of the target asset and when it has reached its destination.
Dashcam
Verizon Connect's integrated dashcam records and uploads the video in real-time to the web portal. It records HD quality videos in 720 pixels resolution. There are two options for buying the dashcam – Front-facing dashcam and two-way dashcam.
Replay
This feature allows checking the recent logs of the vehicle. It can help in the case of any mishap or any incident that requires proper investigation. You can also see the historical data to check if the driver was following the rules. You can review all the past activities of the driver or the vehicles through its intuitive user interface.
Assists Vehicle Service
This ELD has the option of alerting you on your vehicle maintenance. It will let you know when is the right time for the service based on its working and the legal time to get it done.
Benefits of Verizon Connect ELD
The Verizon Connect ELD has to offer ample benefits for drivers and managers. Here are some of the benefits of the device:
Easy-to-install device

One of the best user interface

Intuitive software

Offers 24/7 roadside service

Accurate scheduling and managing the orders

Tracks and monitors fuel and costing

Helps with completing DVIRs from your phone

Automated reports and alerts for duty status, breaks, HoS, etc.

Alerts you for crossing the HoS limit

Provides free demo

Real-time GPS tracking for better fleet management

Compliance with DoT and FMCSA regulations

ELD logbook maintenance

Offers commercial vehicles roadside assistance
Verizon Connect ELD Suitability
The Verizon Connect is suitable for all fleet sizes. However, you should make sure that your budget matches their plans before investing in this ELD. The ELD works with your Verizon Connect Fleet Management System, which has the option of fleet customization.
PROS
Keep records of logs, and duty status, and help in fleet management

It doesn't require much manual feeding

It can't have tampered

Automatic updates of HoS, duty status, and other updates

Sends alerts on crossing HoS limits.

Hardware is designed to meet the telematics standards

Free Demo

Save money and increase productivity

Helps in checking drivers' performance

Let you know the vehicle status by diagnosing the engine and other areas

Increases the safety of drivers and traffic
CONS
No mileage report

Monthly service is expensive

Customer support is not up to the mark

The tablets lose the connection in no service area

Can't create separate user views by location

Sometimes the data is inaccurate
Customer Reviews (G2.com)
#
Emmy D (Manager, Small-Business)
★★★★☆
"Verizon Connect Reveal Easy to Use"
What do you like best?
We get the most use out of Route replay, Daily reports, and Job Scheduler. We use the Verizon Scheduler every day; it is the primary way to dispatch technicians to service calls. We can also see which technician is the closest to a new service call to improve dispatch times. 
What do you dislike?
The inability to create separate user views by location. We have multiple locations and cannot change which technicians are visible, so each branch sees all the technicians. It would be better if we were able to select which technicians are visible to each user. I've submitted a request for this feature to the Verizon Service team, and hopefully, they will be working on that in the future. There are also some issues when deleting a user, it will not entirely delete it, and we have to put in a help ticket to get the user permanently deleted or reactivated. 
Recommendations to others considering the product:
I highly recommend using Verizon Connect for GPS tracking. It has a straightforward user interface and excellent training materials.
What problems are you solving with the product? What benefits have you realized?
We always know where our techs are and can check the GPS location against their timesheets.
Jesse C(President, Mid-Market)
☆☆☆☆☆
"The product is fine, the support is non-existent"
What do you like best?
I like the driver safety score created from the driving data. It is nice that billing comes on our Verizon statements. 
What do you dislike?
Zero responsiveness or knowledge shown by Connect support. Verizon disowns them whenever there is an issue. Misinformation between representatives makes everything a challenge—poor communication & language skills from support agents. Techs for performing installations can take a month to schedule; experienced several no-shows. Constant marketing for different product. They will change the hardware being used as a company and not know what hardware to send to us for installing new system. System does not integrate well with anything outside of the Connect ecosystem. The only thing they seem to be efficient at is executing the 36-month captive contract agreements. 
Recommendations to others considering the product:
Shop around.
What problems are you solving with the product? What benefits have you realized?
The only advantage we have seen from this product versus others we have used is the driver safety score, which is no longer unique.