One of the most significant objectives of fixing an ELD in the vehicle is to provide tracking solutions and help to maintain guidelines for compliance and safety. A driver must fix an ELD system in the truck that allows him to record driving hours electronically. AT&T Fleet Complete is ideal for this function with its automated features and capabilities. The simple and automated process of report generation helps save time and effort. It ensures the smooth operation of the trip, as managers can track records in real-time and make informed decisions. The ELD helps to improve efficiency in operations and streamline the workflow. As a result, fleet owners can achieve compliance, safety, and profitability in operations.
This article will discuss AT&T Fleet Complete Review, Cost, and Features. So stay with us till the end.
About the Manufacturer
AT&T is a multinational holding company and a renowned name in telecommunications. It has the expertise to provide technology solutions to the transportation sector. The AT&T Fleet Complete management wing has stepped into the ELD market with a simple electronic logging solution that will keep the transport businesses compliant with regulations. The company developed The device as a complete vehicle solution tool, including fleet tracking, driver monitoring, and meeting regulatory compliance. As a leader in the telecommunication sector, AT&T Fleet Complete has rich expertise and skill in designing products and services for transport businesses that give effective results.
Fleet Complete Service Plans and Pricing
Cost of device: The Company does not charge anything for the installation of the device.
Cost of subscription: The subscription cost is around $50 per month.
About AT&T Fleet Complete
AT&T Fleet Complete is a GPS-based tool that allows real-time tracking. You can track your truck, the driver, and the routes. It works through a fleet tracking app (designed by BigRoad) that you can install on your iOS and Android device.

The AT&T ELD solution performs activities with the help of the following tools:
Hardwired modems installed in the vehicles

Smartphone or tablet for running the mobile app

Asset tracking devices connected with the engine module
After installing the modems, you will be able to access all the relevant features for reviewing driver logs, running reports, recording driving time, receiving alerts, etc. You have to install the mobile app to monitor the driver's activities and vehicle movements.
Key Components
The fleet management system includes three components for tracking and communicating with vehicles and drivers. 
Fleet Tracker: It is a GPS tool that allows reading engine data and provides real-time information about the activities and performance of the vehicle.

Asset Tracker: It helps to keep track of your asset from anywhere. It gives information on movement, idling time, mileage, and technical issues.

Action Tracker: It helps detect undesirable driver behavior like harsh braking, excessive speeding, or unnecessary idling.
Key Features and Capabilities
Two-way Real-time Communication 
It allows information sharing about one truck with other vehicles, operations staff, field workers, as well as fleet managers. The managers can read reports and logs that give sufficient information on the truck's condition and driver status. 
E- logs
The electronically-generated automated logs can help regularize the activities with minimal effort and time. The records contain accurate information that makes inspection easier. E-logs are editable and can be accessed instantly by concerned managers.
Centralized Reporting
The record of driver logs and vehicle data are stored in a central server to reduce administrative workload, time, and costs. The Hours of Service reports and DVIR provide meaningful information on driver and vehicle status to take appropriate actions.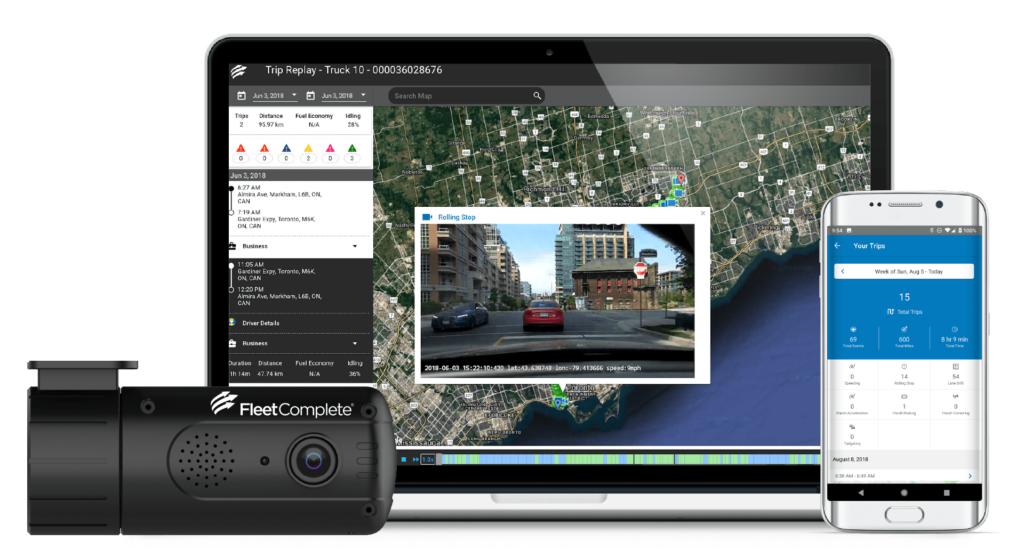 Optimized Operations
A proper monitoring system enables managers and dispatchers to track the status of driver's duty hours, balance time, resting needs, etc., which guides them to allocate and distribute workloads for optimized outputs.
Support to Drivers
The system keeps track of the driving behavior and gives them necessary alerts in case of any potential violations and risky situations. This support also improves driver performance and accountability.
Notifications And Alerts 
Notifications are crucial for drivers to make them aware of potential HOS violations. These alerts help them plan their routes appropriately and stay compliant. Drivers can edit violation notices, but all the Fleet Complete app records the edits that are always accessible for roadside inspections and audit purposes.
Automatic Updates of Driver Duty Status
The system has set a minimum speed limit for driving and detects any movement over to that as driving. It changes the duty status accordingly and starts counting hours of service. It is a great way to eliminate violations and remain compliant with FMCSA. The device synchronization allows the device to collect engine data and provide data on fuel efficiency, speed, distance traveled, and engine performance.
DVIR Features 
The inspection checklist allows truck drivers to identify and record any defects in vehicles for taking corrective actions. The mechanic portal integrated with the system gives access to the defect logs anytime by other drivers and fleet managers. This report is a guide to scheduling maintenance activities.
Who Can Choose AT&T Fleet Complete?
The system is suitable for medium-sized and large fleet businesses involving several vehicles and a large mobile workforce. Customers prefer it because it allows them to track the trucks and communicate with drivers to schedule trips, modify routes, control risky driving behaviors, and update records. The fleet owners found this device quite efficient and reliable to help them remain compliant, improve productivity, and optimize costs.
Benefits of AT&T Fleet Complete
Customers using this device are utilizing the benefits of this feature-rich, reliable, and automated system to boost their businesses. The potential benefits that this solution provides are as follows:
ELD Compliance: 
The ELD has to serve the purpose of FMCSA compliance and DOT regulations. The Fleet Complete will make your transition to ELD compliance more convenient, whether you own or a leased vehicle.
Improve CSA Score and Business Reputation: 
AT&T Fleet Complete keeps you updated about any violations by any truck like speeding, out-of-route activities, and unauthorized use. You will get notifications instantly and be able to take prompt action. It will help you gain control over risky driving behaviors and guarantee the safety of automobiles and drivers simultaneously. It ensures your high CSA score.
Real-Time Communication: 
The wireless-enabled network system allows regular communication between managers and drivers to manage vehicles in real-time. It helps handle job orders conveniently while maintaining the HOS. The improved communication leads to increased accountability and improvement in driving performance.
Reduce Operating Costs: 
AT&T ELD systems help optimize dispatch routes that save time and reduce fuel costs. It also can help you control vehicle-related and administrative expenses by decreasing paperwork and manual processes. The maintenance module will allow you to schedule the servicing in a more planned way and cut down any unscheduled maintenance expenses. 
Better Customer Service: 
The Fleet Complete device acts as a comprehensive management tool for businesses allowing them to improve productivity and efficiency in operations. The real-time vehicle tracking, assessment of road conditions, and communication with drivers enable fleet managers to maintain the delivery schedule and update customers about dispatch status. It gives customers a satisfying experience.
Final Thoughts
AT&T Fleet Complete is an FMCSA-compliant electronic logging device that provides simple and budget-friendly solutions. This solution aims at helping businesses to streamline driver reporting, vehicle inspection, and IFTA compliance. It works with an innovative approach and is adaptable to changing technological environments. This device is ideal for this function with automated features and capabilities. It has a very competitive pricing structure and is easy to install and set up. It has an array of back-office tools that makes this product more efficient and reliable.
The electronically generated logs provide a reliable DVIR solution and HOS records. The alerts received through the device help address real-time situational emergencies in coordination with drivers and other team members. It also helps monitor unsafe driving behavior and take action immediately to avoid violations. The GPS trackers in the system send continuous information about truck location and movement.
It means the managers remain updated with all real-time data – from anywhere and anytime. It makes it easy for them to control the overall fleet operations while maintaining productivity and compliance. The intuitive mechanical portal helps to keep track of technical issues and failures that provides guidelines to plan the maintenance activities proactively. It ensures the good working condition of trucks and minimizes the chances of failures and breakdowns.
The driving status report and drivers' service hours are significant criteria in allocating loads and considering effective resource utilization. By planning suitable routes, utilizing vehicle efficiency, and improving driving performance, fleet managers can achieve their targets of arrival and dispatch successfully, ensuring customer satisfaction. 
The user-friendly digital platform offers easy access to various reports to review the vehicle and driver performance over time. The hardware and software synchronization allows the device to collect data from the controlling components of automobiles and relates it to the drivers' personal identification information. This feature enables managers to correlate the vehicle and driver performance. The excellent customer support by AT&T Fleet Complete ensures there is no bottleneck or downtime due to unresolved issues.
The Fleet Complete device and app help drivers, managers, and owners to streamline the workflow with the help of advanced features. The tool is most suitable for truck drivers who need a reliable application-based platform and hand-free access to critical information on ELD. The app integrates with all digital devices that help drivers with easy methods to create electronic logs and feel relaxed. It avoids paperwork, saves time, and ensures minimal distractions. The fleet tracking app helps build an effective two-way communication setup between drivers, automobiles, and fleet managers. The visibility of trucks in real-time and access to updated information are the most powerful features of this ELD solution.
The online platform gives a clear view of the drivers' duty status and the routes they are following so that you can reschedule the journeys for better asset and resource utilization. It ultimately helps to achieve savings in terms of time and fuel consumption. The AT&T Fleet Complete capture relevant data and analyzes them to provide meaningful information. This guides business owners to make appropriate decisions regarding asset utilization, safety compliance, and efficiency improvement.