Fleet companies have two workplaces – their offices and the driving cabin. When the vehicles are in the yard, it is easy to cater to them, maintain and keep them secure. But it is challenging to keep track of them on the road. A fleet manager/operator can always call the driver and ask for updates, which can distract the driver. If you have a small fleet, you can send regular sms or emails to your employees but cannot always expect an answer. Here in this blog we can see "How GPS Tracking Alerts Can Save Your Fleet Time and Money?"
With the modern comprehensive fleet tracking solution, you no longer need to rely on real calls, sms, or emails. You can check the administrator console on your computer, laptop, or smartphone and locate the vehicles. Moreover, you can personalize alerts for various incidences like when the vehicle reaches the designated location or when the driver speeds and receives the notification immediately. This helps avoid unnecessary hassle and keeps you on top of every fleet operation. 
Types of Tracking Alerts
Fleet managers can create and manage alerts to increase real-time visibility and updates about their operations. You can receive it via email or SMS text messages and decide who the concerned person is to get the notification. We provide a list of alert configurations you can get through the GPS-based fleet tracking system.
 Connection: The GPS device generates an alert if it remains offline for a certain period (15 or 30 minutes) based on user preference. It also notifies you if the device is unplugged from the vehicle.
 Geofencing: You can define a zone of movement for your truck and set an alert to get notified whenever your truck crosses the boundary of that specified geographic area. 
 Speed: This is triggered when a vehicle exceeds a specified speed limit. This allows fleet managers to control driving behavior and proactively coach them to follow safety practices.
 Idling: This alert notifies you when the engine is idling for a specified time. You can customize to set how much idle time should pass before you receive the notification. 
 Harsh event: This will trigger when the built-in sensor of the tracker detects hard braking, rapid acceleration, and turning.
 Maintenance: A notification informs you about maintenance needs based on engine logs and diagnostic data of vehicle performance.
 Fuel purchase: The tracking system connected with fleet cards allows you to receive alerts whenever the driver initiates a fuel purchase. It helps you assess the frequency and volume of fuel purchases. 
 Dashcam: The tracker attached to it can generate an alert when it detects any unusual movement or shock in parking mode.
 Route stop arrival: You can configure the device to notify when a vehicle is approaching a scheduled destination. The contact can be the fleet manager or a customer expecting a delivery.
 Low Battery: The device notifies you when the device battery is low so that you can take appropriate actions for replacing or recharging. 
 Temperature and Humidity: You would get an alert in case of an increase or decrease in temperature or humidity beyond a specified limit. You can check the temperature and take necessary actions and adjustments to tackle the temperature change. 
How GPS Tracking Alerts Can Save Your Fleet Time and Money?
You can use GPS tracking alerts to get updates about any critical event or issue happening in real-time. It enables you to take proper actions that result in considerable savings in time and money. The prominent benefits that you achieve from alerts are as follows: 
Save Fuel Costs 
You can receive alerts when a truck is idling over a specified period or facing a traffic concession. This information helps you select an optimum route for your truck that saves time and reduces fuel consumption and associated costs. 
Speed control, route optimization, and reduction in idle hours are crucial steps fleet owners can take to lower fuel costs. Getting alerts on fuel purchases also facilitates controlling fuel consumption.
 Reduce Delays 
You can establish alert systems and track events like a driver going outside a designated area or spending time on wasteful idling. Such notifications allow you to monitor routes and driver habits and determine whether your fleet is running efficiently. You can take action accordingly to reduce downtime and improve efficiency. 
Theft Protection
You can keep your assets secure against theft or misuse by configuring alerts in the device. You will receive instant notifications if someone tries to move the vehicles beyond a pre-defined area. 
You can also use the integrated door sensors in your trailer to notify if the trailer doors are found open outside your pre-determined safe zones. These facilities help you avoid cost burdens due to loss or damage.
Reduce Repair Costs
The tracker is connected to the truck's diagnostic port and generates alerts when potential faults or technical issues are detected. You can make a plan for necessary predictive maintenance of your trucks and ensure the vehicle is in good operating condition. It will avoid any unwanted costs due to sudden breakdowns and repairs. 
Lower Insurance Premium
Safety becomes a crucial factor in vehicle insurance. The immediate notification facilities make you better informed about the situation for appropriate action. It would improve safety and reduce risk concerning your vehicles and drivers. You can get discounts on premiums from the insurance company by protecting your trucks from potential risks and accidents by GPS trackers.
Reduce Vehicle Wear And Tear
Instant alerts for unsafe driving behavior guide drivers to avoid risky driving practices. Harsh braking may damage brake pads quickly and produces unnecessary stress on other vehicle parts leading to wear and tear. The alerts make drivers more accountable and cautious to follow best operating practices, avoiding damage and reducing subsequent repair costs. 
Reduce Operating Costs
The real-time tracking alerts allow fleet managers to make informed decisions towards effective resource utilization and reduction in operating expenses. You will be able to identify potentially inefficient patterns of vehicle operations and take suitable actions to make them more productive. 
Your GPS tracker might notify you that a particular truck is not at the intended location. You can then take prompt actions to resolve the issues and save time and costs.
Matrack Tracking Alert Solutions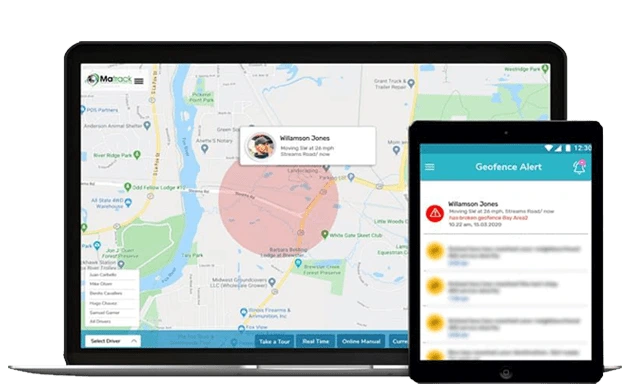 The Matrack fleet management system provides one of the best GPS tools with aggressive tracking and alerting features. You can get real-time updates either through SMS notification or email. These messages allow you to keep track of vehicle performance and efficiency parameters. 
If your vehicle moves outside the zones you set, a notification informs you about the deviations so that you can take prompt action. It is a crucial feature that makes you aware of any misuse or unauthorized movement of your fleet. The real-time alerts on fuel expenses, driving performance, maintenance needs, and location updates would help you control end-to-end operations, optimize cost, and save time. 
Conclusion
The GPS-enabled fleet tracking system provides you with real-time notifications to help you make informed decisions and subsequently increase productivity and profitability in business. 
We have discussed how the alert facilities guide you to improve driving patterns, resolve maintenance issues, and prevent loss and damage to your assets.
This article gives you some valuable inputs to make you aware of how GPS Tracking Alerts Can Save Your Fleet Time and Money and thereby ensure better control and utilization of fleet operations towards time and cost savings.